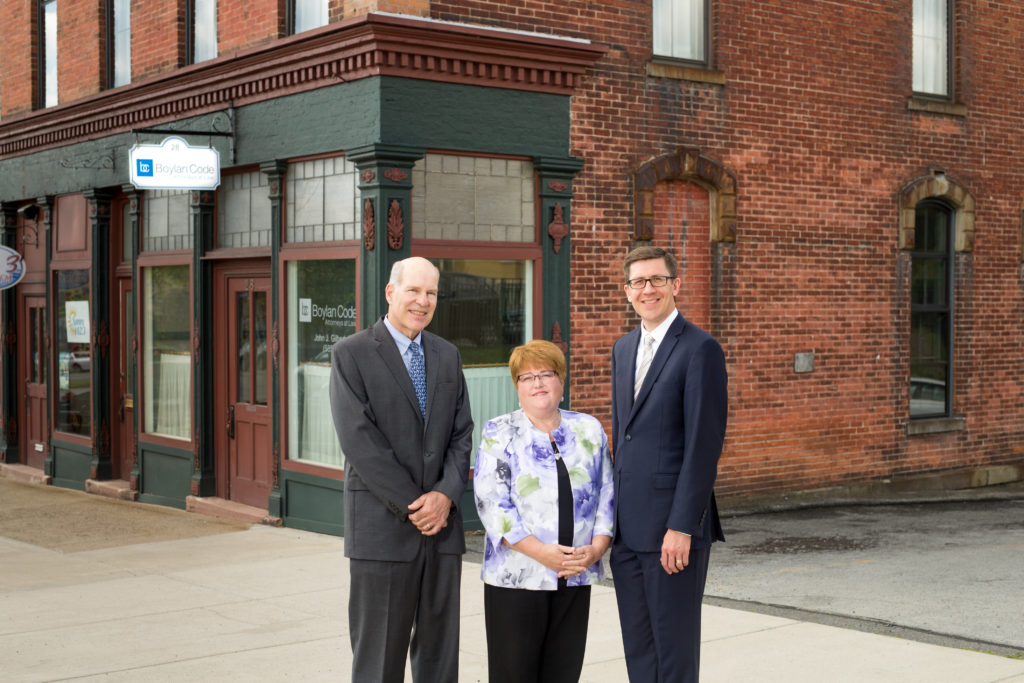 Boylan Code LLP continues the expansion of its Canandaigua office with the addition of attorney Terence Robinson, a Partner in the firm's litigation and municipal law practice groups.
Robinson, previously of Nixon Peabody LLP, is a well-known litigator in Ontario County. He serves as the Chairman of the Town of Canandaigua's Zoning Board of Appeals and last year was involved in one of the closest elections in recent memory when he was narrowly defeated by the Hon. Brian Dennis in his bid for Ontario County Court Judge.
Boylan Code opened its Canandaigua office in 2014 with the addition of attorney John Gilbert, past President of the Ontario County Bar Association. Boylan Code attorney Carol Maue, a Partner and Chair of the Firm's Business Practice Group, has lived and worked in Canandaigua for twenty years and represents many clients in Ontario County and the Finger Lakes region. Together, Boylan Code's Canandaigua team of Gilbert, Maue, and Robinson boasts more than 85 years of combined legal experience.
When asked about the expansion of the Canandaigua office, Boylan Code Senior Partner, Ralph "Buz" Code said: "We are thrilled to add an attorney of Terence's caliber to our Canandaigua office. As our clients in Ontario County continue to grow we felt it was important to make sure we had a team of exceptional attorneys in Canandaigua to service their legal needs. With John, Carol, and Terence spearheading our efforts in Ontario County, our clients will be well-served."
Carol Maue added: "What makes this expansion so exciting for us is that John, Terence and I all live in this community. We've chosen to focus our practices in Ontario County because we are committed to this community and its residents and business."
Boylan Code is a full service law firm with more than fifty legal professionals, and maintains offices in Canandaigua, Newark, and Rochester. Its Canandaigua office is conveniently located at 28 South Main Street, just south of City Hall.
Look for Boylan Code's monthly legal column in the Daily Messenger on the first Saturday of every month.
To read the published article, click here.