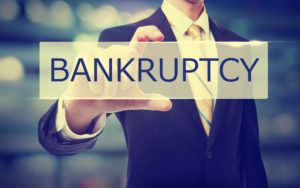 It's easy.  The First Article of the US Constitution directs Congress to make Bankruptcy laws.  Bankruptcy serves a simple purpose – to give "Relief" to Debtors burdened with overwhelming debt.  It is also simple in concept but the process is fraught with many pitfalls.
I'll never get credit again. NO!  Chapter 7 – 10 years / Chapter 13 -7 years on your Credit Report.  But, who's the better credit risk: a former bankrupt with no debt who can't file again for 8 years or someone with debt overload?  Remember also, lenders only earn if they lend.  Plenty of folks get mortgages, car loans and other credit well within these time frames after bankruptcy.  Credit can be frighteningly easy to obtain even after bankruptcy … and here you go again.
STOP!! – Ask the real question, WHY DO I NEED CREDIT?!  Adjust your credit-based lifestyle.  Budget! Pay cash. Credit cards spend too easily.  Start paying attention.
I'll lose my car, my house … everything. NO!   Most folks see no impact on their basic assets.  NYS "Exemptions" protect Homesteads ($82,995), automobiles ($4,550), tools ($3,400), jewelry ($1,150), most household items ($11,375) and many other assets from the claims of creditors in bankruptcy.  Retirement accounts are also generally excepted from the Bankruptcy process.  [Federal exemptions are similar but some are very different: Homestead $22,975 but a "wildcard" exemption is available for more flexible use].  If you have "non-exempt" assets, the bankruptcy trustee will be pleased to entertain an offer to release his claim beyond these statutory exemptions.  (more…)