Experience
Mr. Rosenbloom has practiced law in Rochester since 1959.  Before joining Boylan Code, he served as a Justice of the New York State Supreme Court and as Judge of the New York State Family Court. He also served as a Judicial Hearing Officer in the NYS Supreme Court, Court of Claims and NYS Retirement System.
Honors & Achievements
Mr. Rosenbloom received the Adolph J. Rodenbeck Award for outstanding service to the legal profession and the community from the Monroe County Bar Association in 2011 and was a recipient of the Nathaniel Award for exceptional dedication to the profession from The Daily Record in 2003. In 2012 he received the President's Award for Professionalism from the Monroe County Bar Association. Mr. Rosenbloom is listed in The Best Lawyers in America (2005-2021), and The New York Area's Best Lawyers. Most recently, Mr. Rosenbloom has been recognized as 2021 Best Lawyers "Lawyer of the Year" for Arbitration Law in Rochester, NY.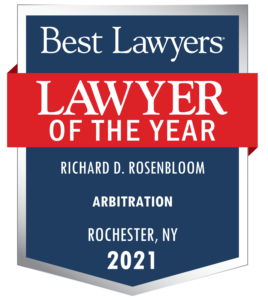 Service
Mr. Rosenbloom served on the Board of the Friends of Eastman Opera, the Advisory Board of Jewish Family Services, the Advisory Board of Jewish Senior Life, and is a member of the Board of Ethics of the Town of Brighton. He has served as president of Jewish Family Service of Rochester and the Genesee Valley Chapter of the American Heart Association. He has also served on the Boards of Children Awaiting Parents, Center For Dispute Settlement, Temple Beth El, Statewide Youth Advocacy and The Legal Aid Society.