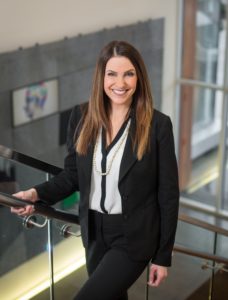 Boylan Code is pleased to announce that Jennifer Aronson-Jovcevski has joined the firm as an associate, concentrating her practice on lending, commercial and residential real estate sales and acquisitions and municipal development. As a former Teach for America teacher, she also specializes in education law, representing both public and charter schools in various areas of education law, labor and employment, special education and real property issues.
Mrs. Aronson-Jovcevski is originally from Canandaigua but now resides in Rochester, N.Y. She received her Bachelor of Arts from Florida State University, majoring in Communications Studies. She then attended Syracuse University where she graduated with a joint degree—a Masters from Syracuse University School of Education and a Juris Doctor from the Syracuse University College of Law.
Prior to joining Boylan Code, Mrs. Aronson-Jovcevski worked for Osborn, Reed and Burke as a civil litigation associate where she represented public school districts and charter schools in all facets of education law. She also represented municipalities, sheriff's departments and private corporations in labor and employment issues. Throughout the course of her career thus far, Mrs. Aronson-Jovcevski has also represented individuals and corporate investors in residential purchases and sales, finding that her true passion was equally split between education law and real estate.
"Very rarely does an attorney have the fortunate opportunity to pursue their passion of practicing two very different, yet interconnected, areas of law.  I am thrilled to join the team at Boylan Code in the Commercial Lending/Real Estate Group where I will practice commercial and residential real estate while still providing my expertise to school district clients in various areas of education law, labor and employment, property acquisitions and special education matters," says Mrs. Aronson-Jovcevski.
"We are very pleased to have Jennifer on our Real Estate team. She's an excellent attorney and will add depth to our existing group," says Alan Feldstein, partner at Boylan Code and chair of the real estate practice at the firm.
When Mrs. Aronson-Jovcevski is not in the office or spending time with her husband and five-month-old son, she is an avid road cyclist and can be found teaching indoor cycling at Midtown Athletic Club or participating in one of her many 100-mile charity rides around the Finger Lakes.