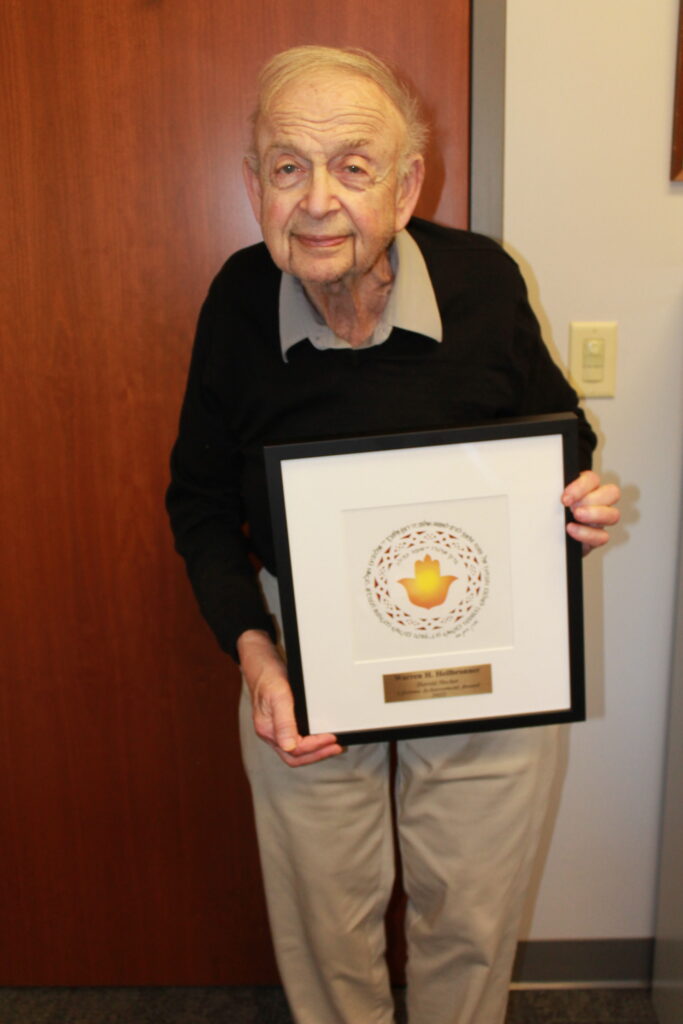 The Jewish Federation of Greater Rochester has named Warren H. Heilbronner the 2022 Harold Hecker Lifetime Achievement Award recipient.
Warren has spent much of his life dedicated to ensuring that the Holocaust and its lessons are not forgotten. He is a long-time member of the Federation's Center for Holocaust Awareness and Information (CHAI) committee and has been a speaker in the "Survivors in the Classroom" program for many decades.
"His was a lived experience, even as his family was fortunate to escape Germany and come to the US," said former Federation Board President Mona Kolko. "His story is in our book "Perilous Journeys;" he's spoken at our annual Kristallnacht commemoration event ("the night of broken glass"), and [he is] passionate about telling his story, even though he is very modest. She went on to explain, "he shows up to everything we do at the Federation and is a very devoted and thoughtful, "active listener" Board member; one of the best." Kolko concluded, "[Warren], you are a blessing to the Federation, the entire Jewish and civic community."
Heilbronner says words like this encourage him to continue to speak about the Holocaust, his family involvement, and the negative forces running in our country. "I feel that if I can get at least a few individuals at each session to think about what we are seeing and are willing to involve themselves, I feel that I have accomplished something. I hope that at least for a few more years, I will be able to contribute both in my work and the organizations to which I belong."
Congratulations, Warren. You are truly deserving.